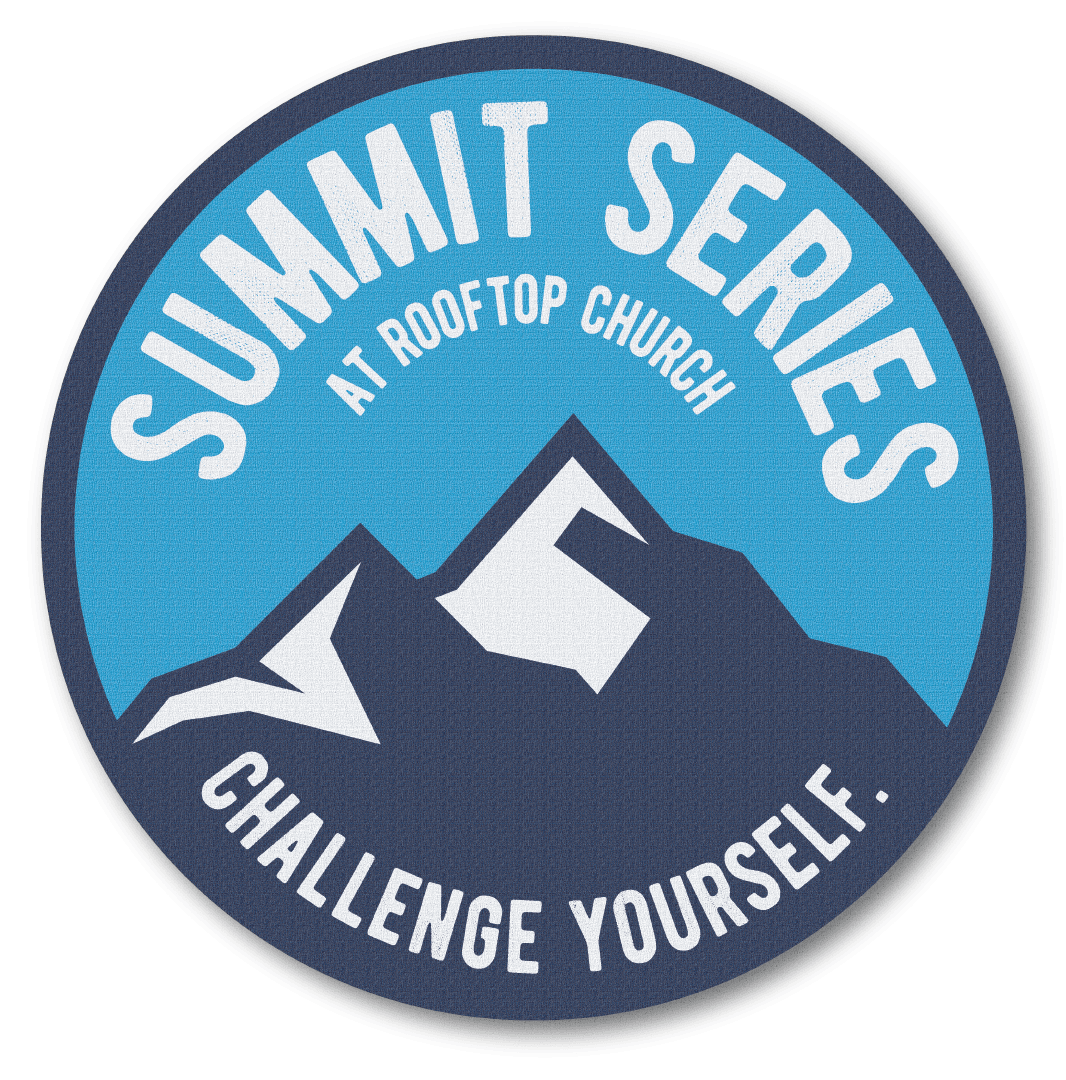 Challenge yourself to keep climbing. Join us on a Friday night each month!
Deciding to follow Jesus is just the beginning of your journey. Don't stop. Challenge yourself to grow and learn so that you can become the person who God wants you to be.
Philippians 1:6 says "being confident of this, that he who began a good work in you will carry it on to completion until the day of Christ Jesus."
God is working on and in each of us who have believed in Jesus Christ, to "reach the summit" in our spiritual lives. Here at Rooftop, we want to help you on the climb. That's why we have developed the Summit Series - workshops focused on biblical discipleship various areas of our lives including marriage, parenting, finances, prayer, technology, scripture reading, sexuality and more. The workshops are typically on the second Friday each month.
See the schedule and RSVP below.
Questions? Contact Jeremy Zilkie, pastor of spiritual formation and small groups.
Upcoming Summit Events:
January - Shaped by the Word: The Power of Scripture in Spiritual Formation (Bible/Scripture)
Friday, Jan 10 | 7 - 9 pm
The #1 key to spiritual growth is regular reading of the Bible. It is God's word to us His people, and God Himself can be found in the pages. Yet, Christians today confess to reading the Bible very little. Are you reading the Bible regularly? Do you feel like you encounter God when you do? Are you missing something? We will dive into these and other questions about the Bible as we discuss both its potential POWER and IMPORTANCE to our daily Christian life.
February - Understanding Trauma
Thursday, Feb 20 | 7 - 9 pm
Almost everyone has encountered sexual trauma - either through your own experience or that of a friend or family member. Learn how that trauma affects behavior and how to respond accordingly. This seminar will equip you with tools to help navigate your trauma and better understand how trauma affects those around you.
March - The End Times
Friday, Mar 13 | 7 - 9 pm
There has been a lot of fiction over the years, very interesting stories, about the "end times". However, most of it comes from one narrow and singular perspective. In March, Rooftop's Summit Series will dive into what the Bible says about the "end times" and seek to understand both the fascination with the "Left Behind" version of the end times, as well as the other views that the church has believed in over the centuries. If you have questions about the "end times", the book of Revelation and other prophetic and apocalyptic passages in the Bible, then this is the Summit event for you.
April - Same-Sex Attraction in the Church Today
Friday, Apr 17 | 7 - 9 pm
FirstLight Ministries will join us to discuss how the church can respond to people in and outside of the church who have same sex attractions in a manner that is both faithful to scripture and compassionate. The evening will include testimonies and teaching about what the Bible says about this important topic.
May - God, Government, and the Gospel (SECRET CHURCH 20)
Friday, May 1 | 6 pm to midnight
Every spring, David Platt and Radical Ministries (https://secretchurch.radical.net/) hosts a global, simulcast from his home church in Virginia called Secret Church. Rooftop will broadcast this discipleship gathering at our May Summit Series. It is a lengthy Bible study (around 6 hours) designed to equip believers with as much Bible teaching as possible in one night. We also spend time praying for believers and unbelievers in a specific country that is hostile to the gospel message. This year's Secret Church topic is "God, the Government, and the Gospel". Christians around the world suffer and struggle under hostile governments. How should they respond or react? Things are politically charged here at home heading into another election season. What is our responsibility and obligation as Christians toward the governments that rule over us? Heading into the 2020 election season, what would Jesus would say to us on this topic?
June - Warfare, Pacifism & the Christian Faith
Friday, June 12 | 7 - 9 pm
Use the form below to register for a Friday night Summit event each month: