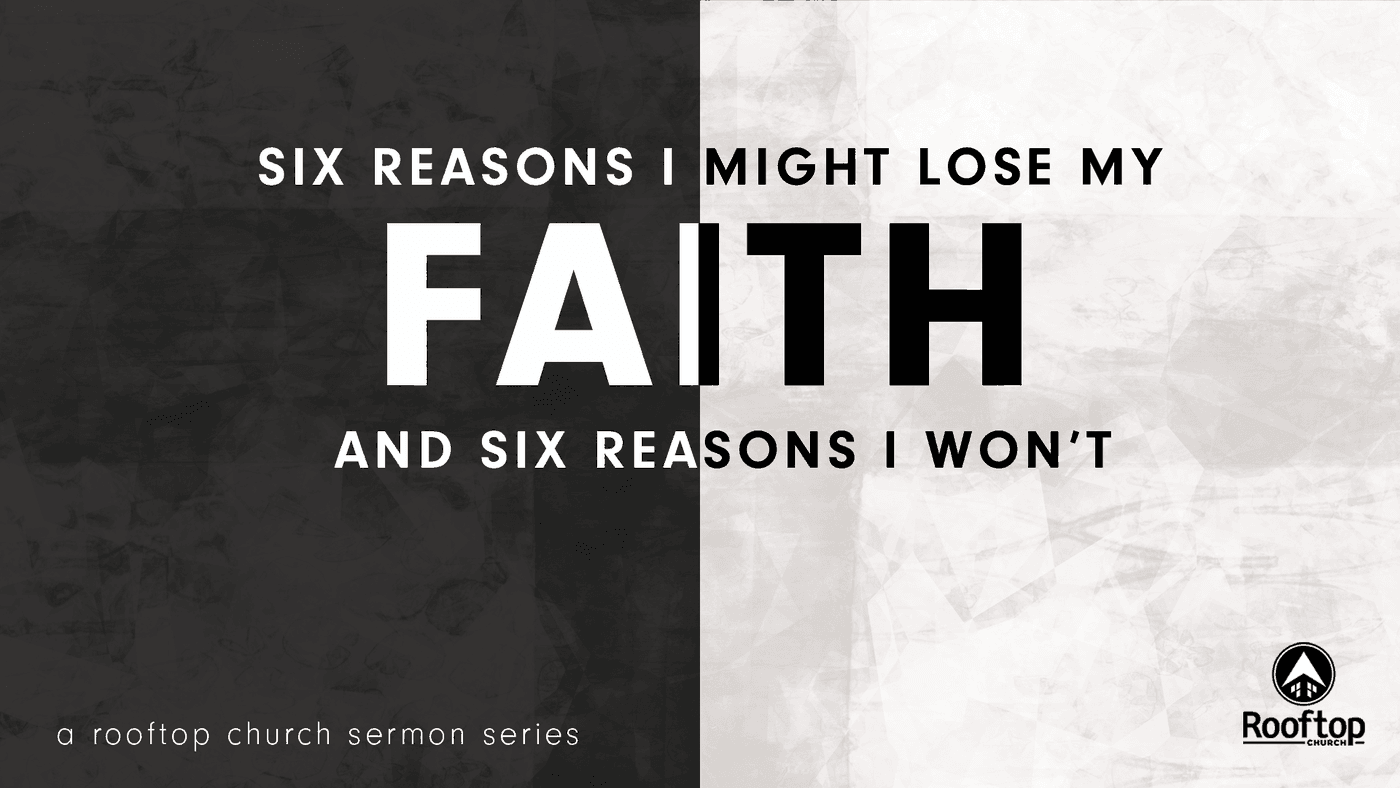 Six Reasons I Might Lose My Faith and Six Reasons I Won't
A Rooftop Church sermon series beginning Jan. 2, 2022
Belief is hard and doubt is real. Lots of people walk away from Christianity for many reasons--reasons that aren't dumb. Some say that science has explained our need for God. Some say that a loving God would never send people to hell. Some say that suffering proves God isn't real. But at the same time, people become Christians for good reasons, too: the resurrection, the beauty and origin of the cosmos, the power and goodness of the gospel.
Maybe you're wrestling with the reasons for and against belief -- or many you know people who are. We at Rooftop Church want to be a place where people can talk honestly about the reasons for and against belief. Questioning faith is not a sin. It's a sign of humility and intellectual honesty. But there are good reasons to believe in the truth of Christianity, and there are answers to reasons against. Come spend 12 weeks with us as we discuss, Six Reasons I Might Lose My Faith, and Six Reasons I Won't.
Six Reason I Might Lose My Faith
Jan. 2 - Science can explain religion better than God can.
Jan. 9 - Christianity is just another world religion.
Jan. 16 - The God of the Bible is immoral and unworthy of worship.
Jan. 23 - God doesn't answer prayer like Jesus promised.
Jan. 30 - It makes no sense that God would send sinners to hell forever.
Feb. 6 - Unjust suffering proves that a loving and powerful God does not exist.
And Six Reasons I Won't
Feb. 13 - The universe couldn't have come from nothing unless it was created by God.
Feb. 20 - Our moral obligations to do good prove God is real.
Feb. 27 - The Christian Church is the greatest force for good in the history of the world.
March 6 - The resurrection of Jesus is best explained as a supernatural event.
March 13 - The world looks like it was designed by a Designer.
March 20 - It makes more sense to choose to have faith.