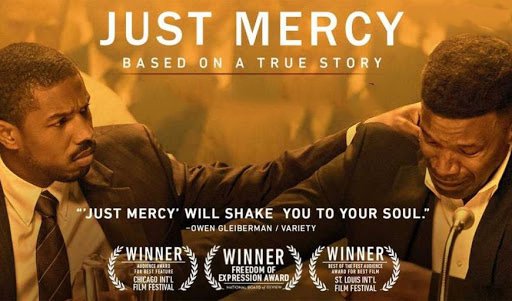 Movie and Discussion Night
Saturday, Aug. 22 at Rooftop (and Zoom)
Movie at 5:30 pm | Discussion at 8 pm
Let's continue the conversation about race. Rooftop Church will host a Movie & Discussion Night on Saturday, Aug. 22 to create an opportunity to talk about race, equality, and reconciliation.
We are watching Just Mercy (PG-13), a movie about world-renowned civil rights defense attorney Bryan Stevenson who works to free a wrongly condemned death row prisoner. (Watch the preview here) It's based on a memoir with the same title by Stevenson, founder of the Equal Justice Initiative.
We'll watch the movie at church (while social distancing) and then gather for a frank discussion after the film. Pastor Matt Herndon and Rooftop Deacon Tenley Dame will lead the conversation. Bring your questions, ideas, and an open mind.
Here are your options to participate:
Watch the movie at church at 5:30 pm on Aug. 22 and then join the in-person discussion at 8 pm.
Watch the movie on your own time and then come to church for the conversation.
Watch the movie on your own and then join a live Zoom conversation at 8 pm that evening.
If you choose to watch at home, you can rent the movie on Amazon Prime and other streaming services for about $6. Click the button below to register for the event - whether you will be joining us in-person or virtually. Got questions? Email admin@rooftop.org.
Register for Movie Night using the form below.