Doing church floor by floor
The Christian life is not designed to be a spectator sport. It's a journey. Here at Rooftop, we want to be a place where people take steps forward to experience all that God has for them in their growing relationship with Him. That's why we designed a map to help people understand how to take those next steps. We call it "Doing church floor by floor."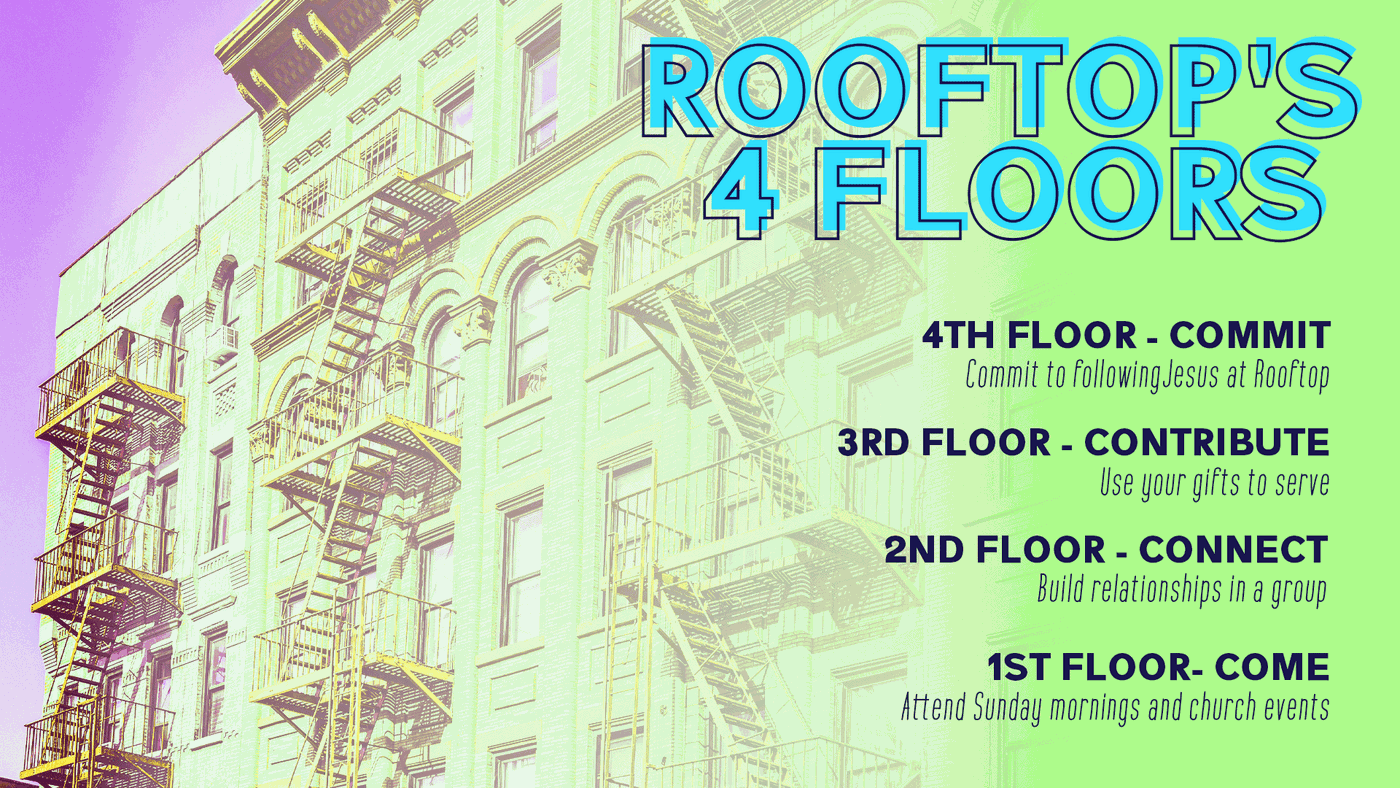 1st Floor: COME
The First Floor is where we all start when we COME to Rooftop, Sunday Service, or a Rooftop Party/Event. Check out our Connect Lunch every other month to meet some people and learn more about us and what we believe. Learn More
2nd Floor: CONNECT
The Second Floor is where people begin to CONNECT through involvement with small groups and important friendships and Christian relationships. Our small groups are communities of people who meet weekly to study the Bible, build friendships and do life together. Learn More
3rd Floor: CONTRIBUTE
The Third Floor is where we live out God's call for us to serve and CONTRIBUTE our gifts and abilities to the church we have made our home. That means serving with one of our ministry teams such as the Rooftots Children's Ministry, Worship Team, Cleaning Team or Lawn Crew. Learn More
4th Floor: COMMIT
The Fourth Floor is the place where Rooftoppers COMMIT to be an integral part of the church and church community.
So what does it mean to be committed to Rooftop? It means to be actively committed to the Big Six values of Rooftop as a follower of Christ.
Our Fourth Floor members are committed to:
· Showing up to church on Sunday. You might think that's obvious, but it's really not. Christians worship together.
· Treating Rooftop like a church family. The Bible says that all followers of Christ are brothers and sisters, under the Fatherhood of God. We try to live that out here at Rooftop in all the ways we can.
· Using your gifts to serve the kingdom. You have a gift! You have a purpose! Rooftop is a great place to find out how God has equipped you to serve.
· Working out conflict with other Rooftoppers. Church families fight, but we do our best to work things out in the way Jesus commands. (And if you read the Bible, you know this is REALLY important.)
· Aspiring to holiness. Nobody's perfect, but as Christians, we are called by Jesus to model holiness to the world and to let our lights shine before others. The Bible describes what holiness looks like, and we all aspire to live like that.
· Giving your time & money to support the church. You're a steward of God's resources. They're His—not yours. And one of the reasons God's blessed you is so you can support all we do in the community and around the world. We all try to push ourselves to and beyond a 10% tithe of our income to the church. It's hard but worth it.
· Support Rooftop's leadership. Our leaders work hard, and many volunteer their precious time to serve the kingdom. They make mistakes, of course, and are willing to hear about them and learn from them. But they need your support more than you know. Be gentle and appreciative.
· Prioritizing Rooftop's values and purpose. Our purpose is to be followers of Christ who make followers of Christ. And our values are Teaching, Worship, Evangelism, Community, Service, and Prayer. We've got lots of regular opportunities to reinforce that purpose and values, and we hope you make those values a part of your life and faith.
· Attending Ground Floor Events, including State of the Roof meetings. We're all busy, but it's hard to be a church unless we gather together. We hold State of the Roof meetings twice a year—in the Spring and Fall—and we do important church business. It's YOUR business, and we need you there.
· Living in community with other Rooftoppers. There's lots of great people at Rooftop, and you should get to know them. We expect that you will, through a small group or service team or some fellowship opportunity.
· Talking with us if your commitment is waning. People leave churches. It happens. But let us help you with whatever is going on. Please don't decide to leave and then tell us (or not tell us) afterward. Let the elders give you counsel and prayer. Again, we're a family—ideally, a healthy one. And we want to act like one.
Want to know more?
Connection with Pastor Jeremy DeBord to learn more. You can email him at jeremy@rooftop.org or use the form below.