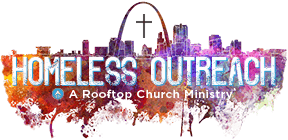 Sharing love and hope with the unhoused
That's the mission of Rooftop Church's Homeless Outreach. We want to bring dignity and compassion to people in St. Louis who have found themselves unhoused, struggling, and losing hope. Join the team every other Monday. Our focus is on building relationships, community, and helping our unhoused friends on their faith journey. We pray with, encourage, and share some donations with those God puts in our path.
Want to get involved?
UPCOMING HOMELESS EVENTS
Mark your calendars and join us as we serve our unhoused neighbors every other Monday evening. Dress in weather-appropriate clothing with sturdy shoes. Please RSVP to service@rooftop.org or complete the form below before you attend.
"Mission Monday" Outreach- Street Team - Join us every other Monday from 6 -9:00 pm as we seek to build relationships, community, and distribute donations in the downtown St. Louis area. We car pool from Rooftop at 6 pm.
Donation Team- Contact service@rooftop.org for more details.
Resource Team - Contact service@rooftop.org for more specified details.
Ongoing Donation Collection - Donate new or gently used items to help support the ministry. Drop items in the wire bin in Rooftop's Lobby. Keep in mind our needs are seasonal for our unhoused friends and our storage options are limited.
Email service@rooftop.org for more information or a list of current needs for the ministry.
CURRENT HOMELESS DONATION NEEDS (as of October 2022)
• Men's Hoodies (L and XL)
• Men's Jeans (size 32-36)
• Men's boxer briefs (size M,L,XL)
• Women's Jeans (size 6-12)
• Women's Underwear (size S,M,L)
• Small Green Propane Tanks
• Hot Hands (hand warmers)
• Sleeping bags
• Pre-packaged snacks
• Pop-top canned meals - chili, stew, etc.
*Please make sure your donations are clean. Thank you!
(If you happen to have warm-weather items, please hold on to them until the spring weather arrives. We cannot use them now, but will be able to bless someone with your generosity very soon.)
fill out the form below to get more information or sign up to serve.