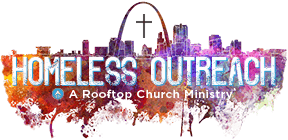 Sharing love and hope with the unhoused
That's the mission of Rooftop Church's Homeless Outreach. We want to bring dignity and compassion to people in St. Louis who have found themselves unhoused, struggling, and losing hope. Join the team every other Monday. Our focus is on building relationships, community, and helping our unhoused friends on their faith journey. We pray with, encourage, and share some donations with those God puts in our path.
Want to get involved?
"Mission Monday" Outreach - Join us every other Monday from 6 -9:00 pm as we seek to build relationships, community, and distribute donations in the downtown St. Louis area. We car pool from Rooftop at 6 pm.
Ongoing Donation Collection - Donate new or gently used items to help support the ministry. Drop items in the wire bin in Rooftop's Lobby. Keep in mind our needs are seasonal for our unhoused friends and our storage options are limited.
Email service@rooftop.org for more information or a list of current needs for the ministry.
fill out the form below to get more information or sign up to serve.