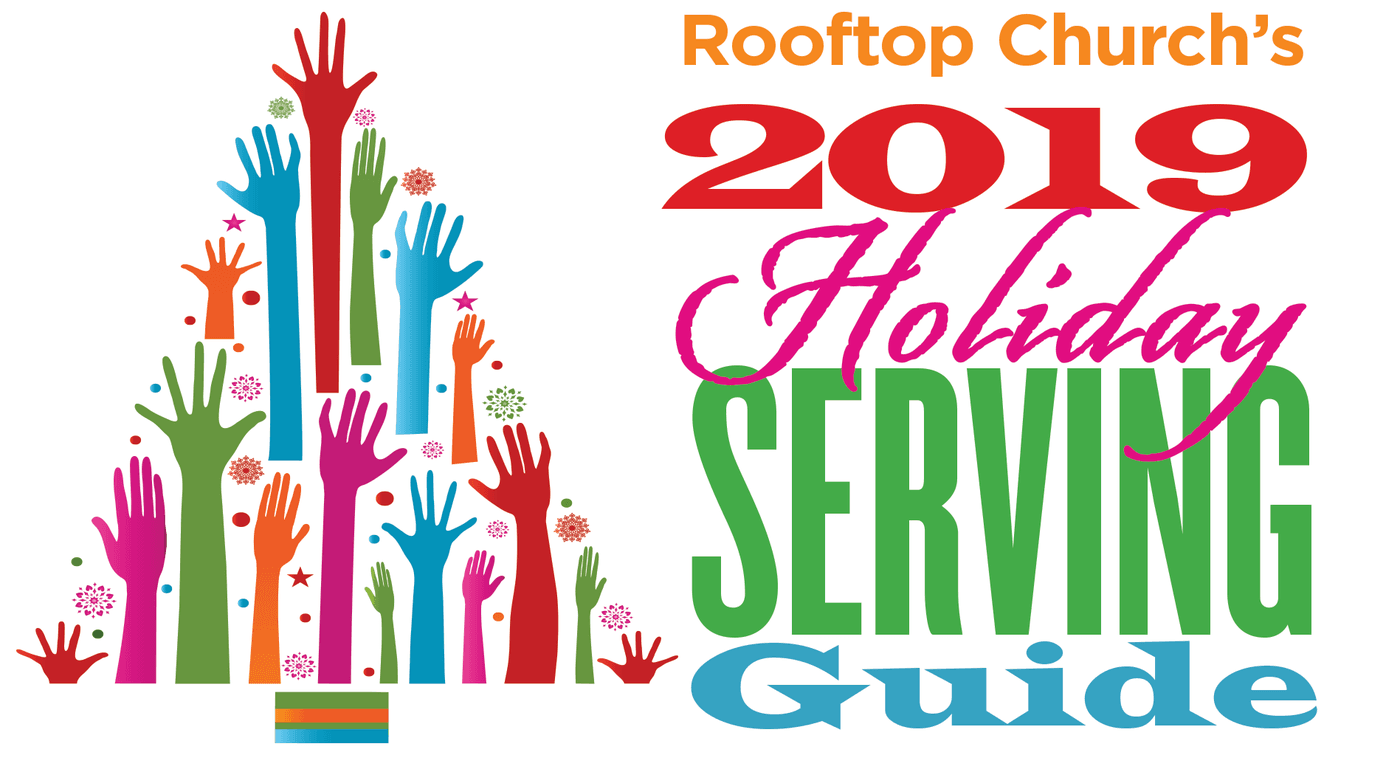 Make Christmas About the Gifts
Make the most of your Christmas when you give your time and possessions to help those who need you. These serving opportunities are sponsored through a Rooftop ministry. Contact Jacob Prahlow, pastor of connections and church planting at jacob@rooftop.org for info about ongoing service projects.
Give Your Time
Nursing Home Ministry
Sunday, Dec. 1 | 2 - 4 pm | 9645 Big Bend Blvd, 63122
Bring the kids? Yes, any age.
Help residents at Bethesda Dilworth Nursing Home get to and from chapel services. Connect with residents and show them love for an afternoon. When they smile, it will be worth it. More info: rooftop.org/nursing-home
Homeless Outreach
Monday, Dec. 2 & 16 | 6 p.m. | Meet at Rooftop to carpool
Bring the kids? Older children with adult supervision.
Join the team to distribute food, supplies, and winter clothing to the homeless just north of downtown. Help restore dignity and encourage those in need of hope in Jesus this holiday season. More info: rooftop.org/homeless
Foster Parents' Night Out
Sunday, Dec. 8 | 4 - 7 pm | at Rooftop | Sign up online to serve
Bring the kids? Older children with adult supervision.
Serve foster and adoption families by caring for their kids. Help lead games, serve pizza, and supervise crafts. More info: rooftop.org/night-out
Affton Christian Food Pantry
Thursday, Dec. 19 | 5:30 - 8 pm | 4960 Heege Road, 63123
Bring the kids? Older children with adult supervision.
Stock the shelves and help clients shop at the food pantry. Rooftop is
usually responsible for the pantry on the 3rd & 5th Thursday of every month. Or drop food donations in the Rooftop lobby. More info: rooftop.org/pantry
Fenton Refugee ESL Program
Fridays, beginning Jan. 10 | 6 - 8 pm | Our Savior Lutheran Church in Fenton
Bring the kids? No.
Serve refugees who recently moved to St. Louis. Volunteer needs include English teachers, teacher assistants, childcare and transportation for students.
More info: jacob@rooftop.org
Give Your Stuff
Blessings for Food Pantry Families
Now until Dec. 2, the Affton Christian Food Pantry is collecting special items for Holiday Blessing Baskets for its families. Please donate personal care items like shampoo, body wash or soap, oral care items, and household needs like bath towels, multipurpose cleaner, and bed sheets. Check out a full wish list at tgt.gifts/acfpholiday.
Donate Supplies for Foster Night Out
The Fostering Faithful Families is looking for the following donations to use at it's parents' night out event: fleece material, paper cups for hot drinks, hot chocolate, large candy canes, mini marshmallows, clear gift bags, milk chocolate chips, red/green ribbon, googly eyes (15mm), and clear tape. Drop donations in bins the lobby.
Mexico Mission Cash Drive
Rooftop is sending a team to Reynosa Mexico just after Christmas to build houses for poor families. Bless the people of the Colonia by donating cash so the team can buy furnishings. Pick an envelope off a Mexico tree in the lobby. Return your donation in the sealed envelope to the offering bags during the service or in the box on the lobby counter by Sunday, Dec. 15. More info: events@rooftop.org
Gift a Homeless Friend
Pick a tag from the Homeless Outreach tree in the lobby and bring back a gift from a wish list for our special friends. All gifts must be returned by Sunday, Dec. 15 so the team can give away the donations by Christmas. More info: service@rooftop.org.
Give Your Time and Your Stuff
Christmas Movie Marathon
Saturday, Dec. 14 | 11 am - 5 pm | RSVP at rooftop.org/movie
Rooftop's Christmas celebration is not just a holiday open house with movies, fun, and treats. It's a mission. Here's how you can give back:
Bring Canned Goods - We'll take your donation to the Affton Christian Food Pantry.
Buy a Raffle Ticket - Buy chances to win fabulous prizes. Proceeds will go to the food pantry.
Write to the Troops - Visit our letter-writing station to send messages to service men and women.
Volunteer to Serve - We need people to help with check in and assist kids with activities. Sign up online at rooftop.org/movie.