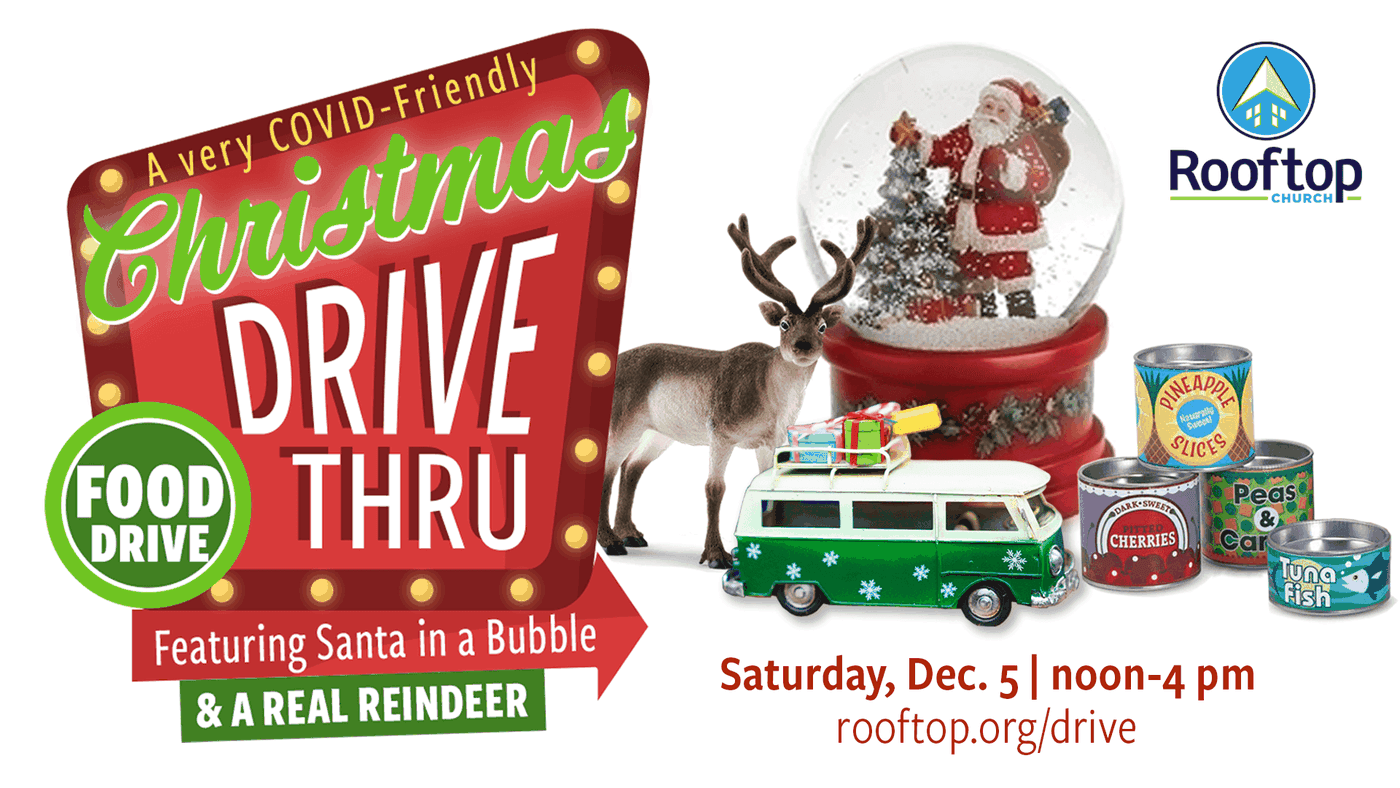 Drive thru to help the hungry and find holiday cheer
Saturday, Dec. 5 | noon – 4 pm
9217 Gravois Road, St. Louis, MO 63123
We invite you to a very COVID-friendly Christmas Drive Thru at Rooftop Church. Bring donations for our food drive and your wish list for Santa, who will be hosting visits and photos in a huge inflatable snow globe. Visit his live reindeer, too.
Our Drive Thru visitors will also get holiday cookies, activity bags for the children and other goodies all delivered in a COVID-safe way. The entire event is free and open to the public. No reservations required.
But wait, there's more! Rooftop will donate a frozen turkey for every 10 cars that pass through the Christmas Drive Thru. All the food collected will go to families this Christmas at the Affton Christian Food Pantry.
Event Schedule:
Santa and Mrs. Claus in a Snow Globe – noon – 2 pm: Our Claus family will be safe in a giant inflatable snow globe, and will visit with children and pose for pictures. Kids young and old can also drop a letter into his outdoor mailbox.
Reindeer Visits – 1:30 – 3:30 pm: Visit a real reindeer in Rooftop's front yard. Masked visitors can get out to take photos and see him up close.
Milk and Cookies – Noon – 4 pm: We'll have packaged cookies and milk to pass to our visitors in the Drive Thru.
Craft Bags for Kids – Noon – 4 pm: Each child who comes through the Drive Thru will receive a free craft activity bag.
Enter the church parking lot on the north side from Pavia Ave.
Got Questions? Email Heather Gain, Director of Communications and Outreach, at heather@rooftop.org.
Want to volunteer?
Sign up to volunteer for the Christmas Drive Thru Food Drive. We're looking for people to greet visitors, pack food, hand out gifts, set up and clean up. Volunteers must wear masks. Families with older children are welcome to serve together. Use the form below to volunteer.