Rooftop COVID Update as of November 18, 2020
[To review Rooftop's overall Comeback Plan, please proceed to the rest of this web page.]
On November 18, 2020, the St. Louis County government enacted its "Safer at Home" restrictions to slow the spread of the coronavirus. In addition to requiring masks, social distancing, and cleaning of the building, those restrictions allow churches to hold 25% of the total capacity of their building, as determined by the fire code. This limit exceeds our normal attendance during the coronavirus.
The Safer at Home order does not change anything Rooftop is currently doing. During the Safer at Home order we will continue to:
Spread chairs out to allow for social distancing;
Clean the building between services;
Require all volunteers and staff to wear masks, unless it prevents them from doing their job;
Provide masks to those who need them, and make hand sanitizer available.
Thank you for your cooperation. Please contact the staff at (314) 582-0093 with questions.
-Updated on 11/18/2020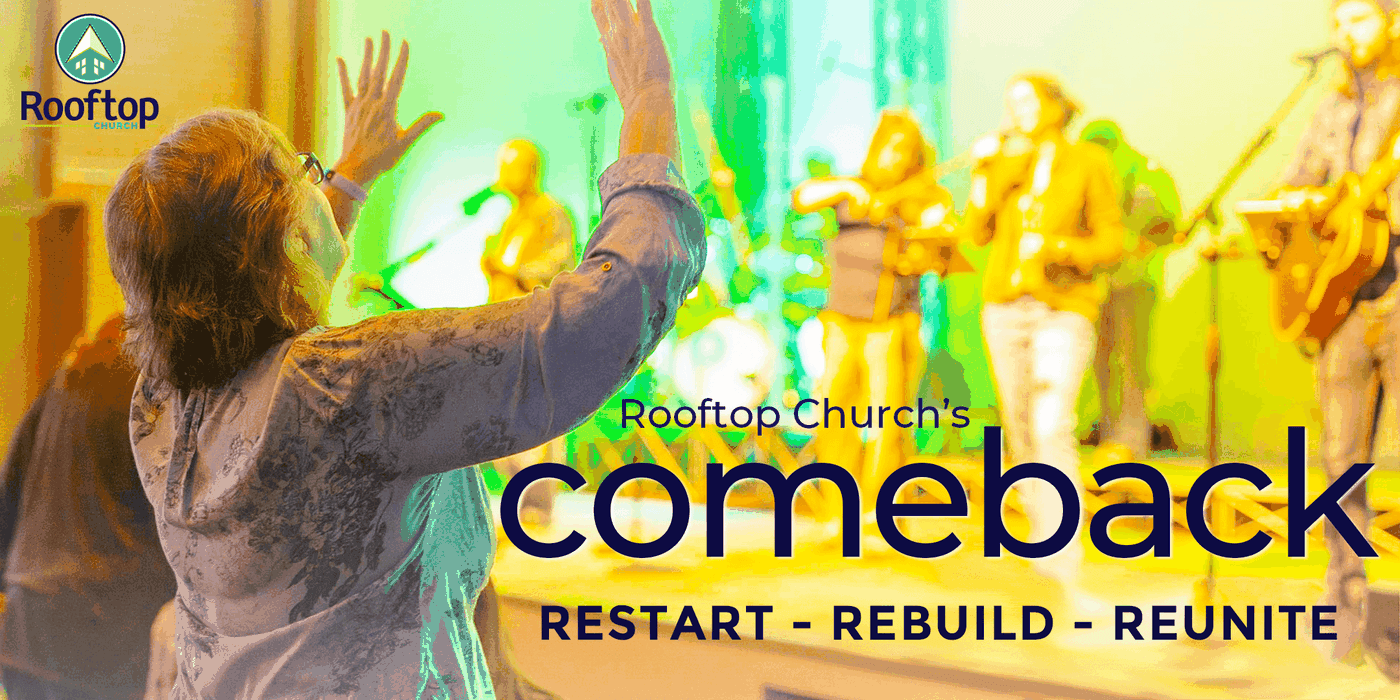 Rooftop's Comeback Plan: Restart, Rebuild, Reunite
Phase 2: REBUILD
Rooftop moved to Phase 2 on Sunday, June 28. Here is what's new in Phase 2:
The common spaces in the building including the Welcome Center and Lobby will be open for people to socialize.
We will serve coffee and prepackaged snacks as part of our hospitality.
The Cry Room is open for families who need to step out with their children.
We are offering limited Rooftots classes for kids age 0-5th grade beginning Sept. 6. Class sizes are limited and weekly pre-registration is required. (Click here to register)
In Phase 2, social distancing protocols will still be followed. All staff and volunteers will continue to wear facemasks at all services (except when on stage singing or talking), hand sanitizing stations will be set up, and offering bags will not be passed around.
Please contact any member of the Rooftop staff with questions or concerns. Text us at (314) 582-0093 or email office@rooftop.org. Stay tuned for future adjustments as the situation develops.
People with compromised immune systems, at risk for infection or simply not ready to return are encouraged to stay home and watch services online. Links at rooftop.org/tv.
Phase 3: REUNITE
Start Date TBD
· Rooftop will open more space in our three services. Our services will continue to livestream on rooftop.org/tv.
· Rooftots Children's Ministry will re-open all classes with new health safety guidelines.
· Other ministries will resume with new guidelines.
· Outreach efforts and church-wide events may resume with new guidelines.
How can we help?
Rooftop is here to serve you. Need to talk to a pastor? Need someone to get you groceries? Have a pray request? Let us know how we can help. The staff is eager to serve you during this crisis. We can talk and pray with you over a phone, Facetime or in person. Text us at (314) 583-0093. Or use the form below.